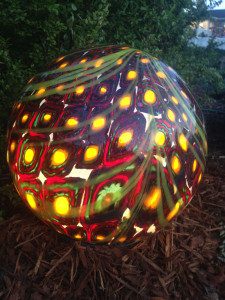 NightOrbs™ are light sculptures for your garden or any other space in need of artistic illumination. Surrounding the light is a hand blown glass sculpture available in a variety of unique colors and patterns. Each lighting sculpture is an individual, hand-crafted work of art.
Consider these unique orbs the perfect way to light up your property while expressing your creative side. In fact, we also offer WaterOrbs™ that bring a colorful ambiance to any pool, pond, or fountain. We sell our orbs with option of water or hanging installation. There are endless ways to use NightOrbs™ to enhance any setting.
Your friends and family are sure to be impressed with your artistic setup, as it's unlike anything they'll have seen before. We offer different shapes, sizes, colors, and patterns inspired by the planets. These decorative garden balls are so unique, they were even featured on HGTV's Curb Appeal.
Lighting Sculptures For Sale
About NightOrbs™ Light Sculptures
Our orbs are the perfect marriage of color and light, and we hope they inspire our customers as much as they inspire us. These brightly lit spheres have the ability to improve any landscape, spark up conversation, as well as instill a sense of peace and serenity in those surrounding them. Learn more about NightOrbs™ in our video below.